Hokkaido International Foundation (HIF) is a non-profit organization that promotes international understanding and contributes to the advancement of world peace through Japanese language study programs and cross-cultural activities in Hokkaido.
Summer Programs for Japanese Language Learners

Japanese Language and Japanese Culture Program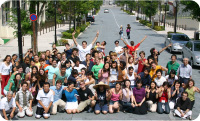 HIF has offered this eight-week summer program since 1986. It is an intensive, university level Japanese language study course that focuses on proficiency-oriented instruction. Homestay is a compulsory component of this program.
3-week Intensive Program for Advanced Learners
HIF launches the 3-week Intensive Program for Advanced Learners in 2013.
This program offers unique opportunities for Japanese language learners who have already acquired intermediate level to advance Japanese proficiency and deepen their understanding in Japan.
Main Homestay Programs
International Cultural Exchange Programs
*Exclusively for foreign students living in Japan.
Tsudoi, Summer
HIF has offered this two-week program every summer since 1979. It is a grassroots cultural awareness program where students learn about Japanese culture through school visits, cultural experiences like tea ceremony, and homestay (cultural experiences differ depending on which town will accommodate you).
Tsudoi, Winter
HIF started this one-week program in 2004 to provide international students in Japan with winter experiences unique to Hokkaido. Activities include skiing, ice fishing,etc. Participants can also enjoy homestay.
Farm Experience
HIF started this one-week program in 2003 to provide farming experiences like poultry growing, charcoal burning, dairy husbandry, fishery, forest industry, etc. Participants can also enjoy homestay.
Cross-cultural Understanding Activities
Workshops and Events
HIF delivers workshops and coordinates events to promote international understanding in cooperation with Japan's Ministry of Foreign Affairs (MOFA), Japan International Cooperation Agency (JICA), and a number of other NGOs.
Language Classes
HIF offers language classes of English, Korean, Chinese and Thai.
Hands-on Program
HIF offers a variety of programs like cooking classes, music concerts and workshops to introduce foreign cultures to a diverse range of people.
Services to NPO's, NGO's, and Volunteers
Information Magazine Publication: Volut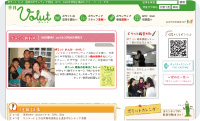 HIF issues the quarterly magazine Volut, which features NPOs, NGOs, and volunteer groups in the Southern Hokkaido area, and to recruit volunteers for various activities. Also, this magazine includes daily information about movies, recipes for ethnic cuisine, and slow life reports.
Volunteer Support Service
HIF supports volunteer groups and activities by offering training in planning skills, marketing, and management.
Counseling Counter: Global Challenge
HIF provides a counseling counter for individuals who are interested in studying, working and volunteering in foreign countries.
Civil Society Organization (CSO) Networking
HIF aims to network with local governments, business organizations, NPOs, and NGOs, to promote local revitalization projects.
Sightseeing Information Blog for Foreigners
gotcha!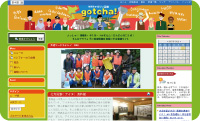 HIF provides information for living and sightseeing in Hakodate via our web Magazine.