Program Objectives
The HIF Japanese Language and Japanese Culture Program is a university level intensive summer course that focuses on proficiency-oriented instruction. The program aims to help participants acquire or improve communication skills in all aspects of Japanese language with the following combination.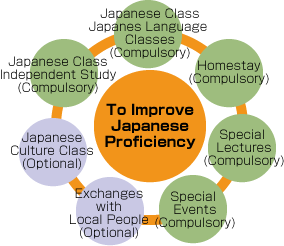 Please refer to To Improve your Japanese Proficiency for the detailed information of each category.
Japanese language proficiency incorporates grammatical competence as well as socio-linguistic, discourse and strategic competencies. Moreover, Japanese language is a high-context language requiring communicators to understand non-verbalized meanings in context. HIF's intensive summer program consisting of well planned compulsory and optional classes and activities will help you to develop comprehensive competences.
The class hour of Japanese class is 140 class hours and equivalent to two semesters of Japanese study at most universities. Past participants have found this program to be highly demanding, as they needed to study for at least 3 hours per day on their own to manage homework assignments, quizzes, weekly tests, midterm and final exams and to maintain class participation. Both committed and proactive participants benefited a great deal from this schedule.
Program Instruction
Title at HIF
Name
Home Institution
Program Adviser
Dr. Osamu Kamada
Professor of Japanese Pedagogy, Nanzan University,Nagoya
Program Consultant
Dr. Seiichi Makino
Professor emeritus of Princeton University
Instructors
Highly trained instructors from tertiary institutions throughout Japan and overseas.
Academic Credits
Participants who satisfactorily complete the Japanese Language and Japanese Culture Program will receive certificates of completion and grade transcripts. Since HIF is not an affiliated institution, participants are responsible for consulting their academic dean to find out if it is possible to transfer credits to their home institutions. Most participants have received credits equivalent to one year's work from them.